Your printer friendly content from www.benningtonsheriff.org on December 09, 2022.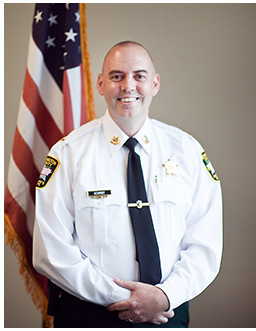 Chad Schmidt
Bennington County Sheriff's Department
811 US Rte 7 South
Mailing Address:
P.O. Box 4207
Bennington, VT 05201
Phone:
(802) 442-4900
Fax:
(802) 442-7282

About Sheriff Chad Schmidt
In 1994 Chad joined the Bennington County Sheriff's office part-time. In 1997 Chad graduated from Southern Vermont College with a Bachelors degree in Criminal Justice. In 1998 Chad was hired full time with the Sheriff's Office and attended the Vermont Police academy in Pittsford.

Over the years Chad progressed through the ranks at the Sheriff's office. In 2006 he attended the FBI National Academy's three-month program in Quantico Virginia. In 2009 Governor James Douglas appointed Chad to Sheriff of Bennington County to fill the seat after long time Sheriff Gary J. Forrest retired.

In 2018 Chad won re-election to the position and is serving a four-year term. He is currently enrolled at Columbia Southern University pursuing a Master's degree in Public Administration. When not at work he enjoys being home with his wife Jaime and their twins Hayden and Sophia.