Your printer friendly content from www.benningtonsheriff.org on December 03, 2023.
Welcome to the Bennington County Sheriff's Website
The Bennington County Sheriff's Department has a rich history in Vermont. Originally founded in 1781 by Sheriff Jonas Galusha, the department had no means of funding until 1986 when Gary J. Forrest was appointed Sheriff by Governor Kunin. Bennington County Sheriff's Department The Sheriff has worked hard to build a department that has deep reaches in the County. read more..
The Bennington County Sheriff's Department has the largest number of law enforcement officers in the county and the largest facility in Southern Vermont. We have deputies working as School Resource Officers, DARE Officers, DUI Enforcement Officers and Seatbelt Enforcement Officers. We also have a Deputy assigned as an investigator with the States Attorney's Office and a Deputy that works with the Southern Vermont Drug Taskforce. The department has come a long way since 1781.
Learn more about the duties we provide. You can also read our Mission and Vision Statement.
Please enjoy your visit to our virtual office!
---
RX Dropoff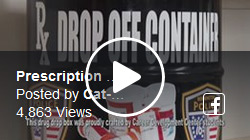 ---